Maximize Your Outdoor Comfort
What good is a deck that you can't enjoy in the midst of Summer? An arbor or pergola is not only an investment in your home but a great way to enjoy those sunny Omaha Summer afternoons. Each of our arbors are custom built specifically for your deck. The goal is to create a strong yet elegant structure. You work with our designers to create the perfect pergola or arbor to maximize your outdoor living experience.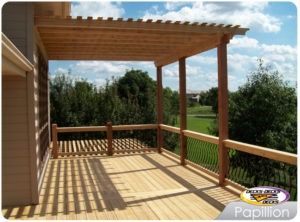 Pergola and Arbor Reduce Heat
Another hidden benefit of hiring a pergola builder is they reduce the temperature both outside and inside your home. If your home receives direct sun on the deck side of your home, a pergola or arbor will keep that area of your home cool. This helps reduce cooling costs and makes your indoor living more comfortable.
A Backyard Oasis
A custom built pergola or arbor transforms your yard and gives it a luxurious feeling and look. You can accent them with benches, lights, planters, and more. We can help you come up with a design that gives your yard a resort-like atmosphere. A pergola or arbor adds a dimension of functionality and aesthetic beauty to your deck that is second to none.
Get a FREE Consultation on a New Arbor or Pergola for Your Deck