Custom deck building is comprised of many components. From the materials, to the design to the aesthetics, our Omaha custom decking company builds decks that are durable and beautiful. Part of a deck's durability and aesthetic appeal is related to deck drainage.
Deck drainage systems are ideal for raised decks for two main reasons. First, they deflect water by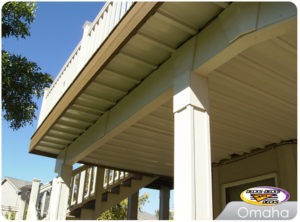 collecting it and driving it away from the home and foundation. Allowing air flow and ventilation is vital to the life of your home's structure and of the deck. In addition, deck drainage systems will provide your Omaha home with more usable living space below the custom raised deck. It's attractive and durable, and will help brighten the space below the deck – making it more usable and enjoyable.
At Decks, Decks and More Decks all our custom decks are built to the specific needs of your family, while taking into account safety, longevity and beauty. A deck drainage system will only add to the function and beauty of your custom deck.