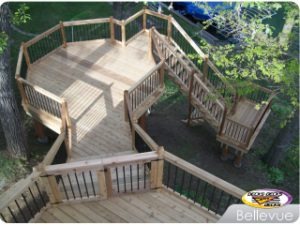 While our custom deck builders build many low-maintenance decks for Omaha homeowners, we also specialize in custom cedar decks. Cedar is often preferred over other decking materials for several reasons, and cedar custom decks that are well-planned and well-crafted can out-do other types of decking in wear and beauty.
At Decks, Decks and More Decks, our Omaha custom deck builders hand select every board for our decks, ensuring straight, solid and colorful boards. Cedar decks are classic and tough. Their look and style is timeless and will offer a beautiful addition to your Omaha. And when cared for well, a custom cedar deck is sturdy enough to stand the test of time and weather.
Cedar decking is also a sustainable and environmentally friendly source of decking, allowing your custom deck to be built with a material you can feel good about.
Give us a call at Decks, Deck and More Decks to see how our custom deck builders can add beauty and fun to your Omaha home with a custom cedar deck.