Our custom decking company in Omaha has planned and built thousands of decks in the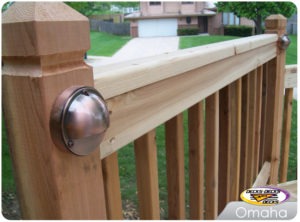 Omaha-metro area. Our decks span a wide range – from small to large, wood to composite, one level to multi-level. One benefit to hiring a professional deck builder like Decks, Decks and More Decks is that our experience and knowledge can provide you guidance from the start on plans, materials, and overall aesthetics and accessories.
Deck lighting is for both ambience and safety. And while a deck without lighting is fun and usable during daylight hours it can become invisible at night without lighting. Our Omaha deck builders can build low-voltage lighting into any custom deck. Low-voltage lighting is energy efficient and will make your space inviting and safer when the sun goes down. Our lighting is also built-to-last.
With planning and proper lighting selection, you can create a special ambiance that will transform your deck. Contact us to find out how we can help your family enjoy the summers with a custom deck.