When it comes to home maintenance and home improvement, there are often numerous choices of contractors to choose from. It's no different with custom deck contractors, as the options for adding a deck to your Omaha home spans from DIY to handymen to deck building professionals.
If you're looking to select one of Omaha's many deck contractors for a custom deck on your home,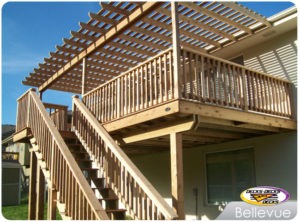 there are several things you should consider. Longevity and experience are among some of the more important things to consider. Experienced custom deck contactors will have a wide base of reviews and testimonials, knowledge of building codes and a large portfolio of custom deck work.
Additionally, when adding a major improvement to your home you want to be sure you're 100% happy before laying out a large deposit. This is why dedicated deck contractors will be willing to put the time in to review materials and layout with you. At Deck, Decks and More Decks, we provide a 3D rendering of your future deck to ensure you are happy before we begin work.
Please contact our custom deck experts to see why we are the preferred custom deck builder in Omaha.