Our Omaha master deck builders have been at it for nearly 40 years. What this equates to is experience – nearly four decades of Omaha deck building experience. It's said that it takes 10,000 hours to achieve mastery in a field. Well, if that's true, which it seems to be, we surpassed that sometime in the late 80s. But mastery isn't enough when it comes to business. Customer service is just as important as the product or service. We'd like to think we've mastered that as well, but we certainly haven't grown complacent.
History Counts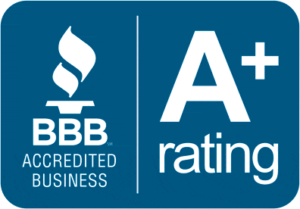 What do we have to show for our nearly 40 years of building custom decks in Omaha? Well, we've earned a perfect A+ rating with the BBB. We've been featured locally and nationally in various publications such as Professional Deck Builder Magazine, Deck World Magazine, and Omaha Builder Magazine. We the highest rated low-maintenance custom deck builder in the Omaha area. Manufactures have rated us as Omaha's only TimberTech / Azek Platinum Contractor® & TrexPro®Elite Member. We're family owned and operated, so we bring family values of quality, honesty, and dedication to every job.
Why Choose Us?
Aside from history and recognition, you might want to know a little more. With literally thousands of custom decks built over the years, you're going to get the deck you want when you work with us. We have an extensive portfolio you can look through for inspiration in case you're not quite sure what your dream deck will look like. We're familiar with all the codes, zoning laws, permits and utility locations that need to be accounted for when building a deck. Our custom decks are ultra-low maintenance decks, meaning they're durable and last without taking up your time maintaining them.
We're FAST! Our years of experience has enabled us to dial in our deck building systems to the point where we can build your deck in a matter of days. NO SURPRISES. We have an extensive hands-on showroom where a variety of decks are on display. You can walk on them, touch them, and even smell them if you want – we don't judge. In addition to the showroom, we offer unparalleled 3D deck designs so you can see the finished product before it's finished. How cool is that?
But enough about us. Ultimately it's about making our customers happy. We strive to create the most hassle-free, low-stress experience from beginning to end. We don't do high-pressure sales tactics. Clear communication from the start to finish is something we pride ourselves on. If you're looking for a low maintenance custom deck that's going to last, choose a company with the history and experience to get it done right the first time. Give us a call today and we'd be more than happy to answer any of your questions. (402) 690-1050